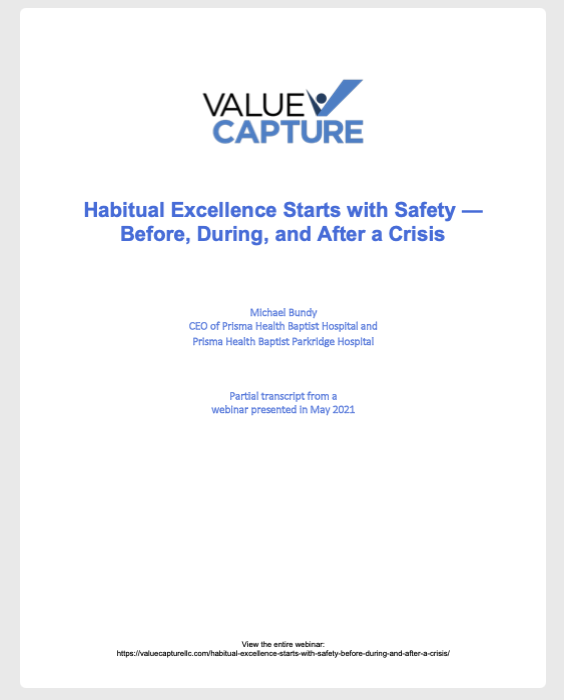 Download now using the form:
Download the Mike Bundy / Prisma Health eBook
Again, it was our privilege to be able to host the first Value Capture webinar that was titled:
Habitual Excellence Starts with Safety — Before, During, and After a Crisis [eBook]
Ken Segel, our Value Capture CEO, was joined by Michael Bundy, Chief Executive Officer of Prisma Health Baptist Hospital and Prisma Health Baptist Parkridge Hospital, and Missy Danforth, Vice President of Health Care Ratings for The Leapfrog Group. You can view the webinar recording.
You can now also read Mike Bundy's conversation with Ken Segel in a PDF eBook format!
Contents:
Learning from Paul O'Neill About Theoretical Limits
Relentlessly Pursuing Zero Harm
Making Time to Pursue Root Cause Analysis and Theoretical Limits
The Waste Created by "Missing Pancake Syrup" and the Power of "What If"
The CEO Leads by Example and Teaches Others
Encouraging and Supporting Real-Time Problem Solving
How The CEO and Other Leaders Keep the Focus on Safety
"Rallying the Troops" or the Team
Supporting the Team That's Faced Strain, Stress, and Exhaustion
Driving and Recognizing Results
The Role of External Validation and Ratings
Key results:
On the Prisma Health Parkridge campus, they went:
552 days without a CAUTI
469 days without a CLABSI
177 days with no C. diff.
426 days since a colon SSI
77 days since a hysterectomy SSI
335 days since a hip SSI
2,548 days since a knee SSI
2,548 days since a VAP

Related Content
To see more about the webinar, check out these two blog post summaries that look at the webinar from two different perspectives:
Highlights From Our First Webinar: Pancake Syrup and Raking Leaves as a Path to Safety and Quality