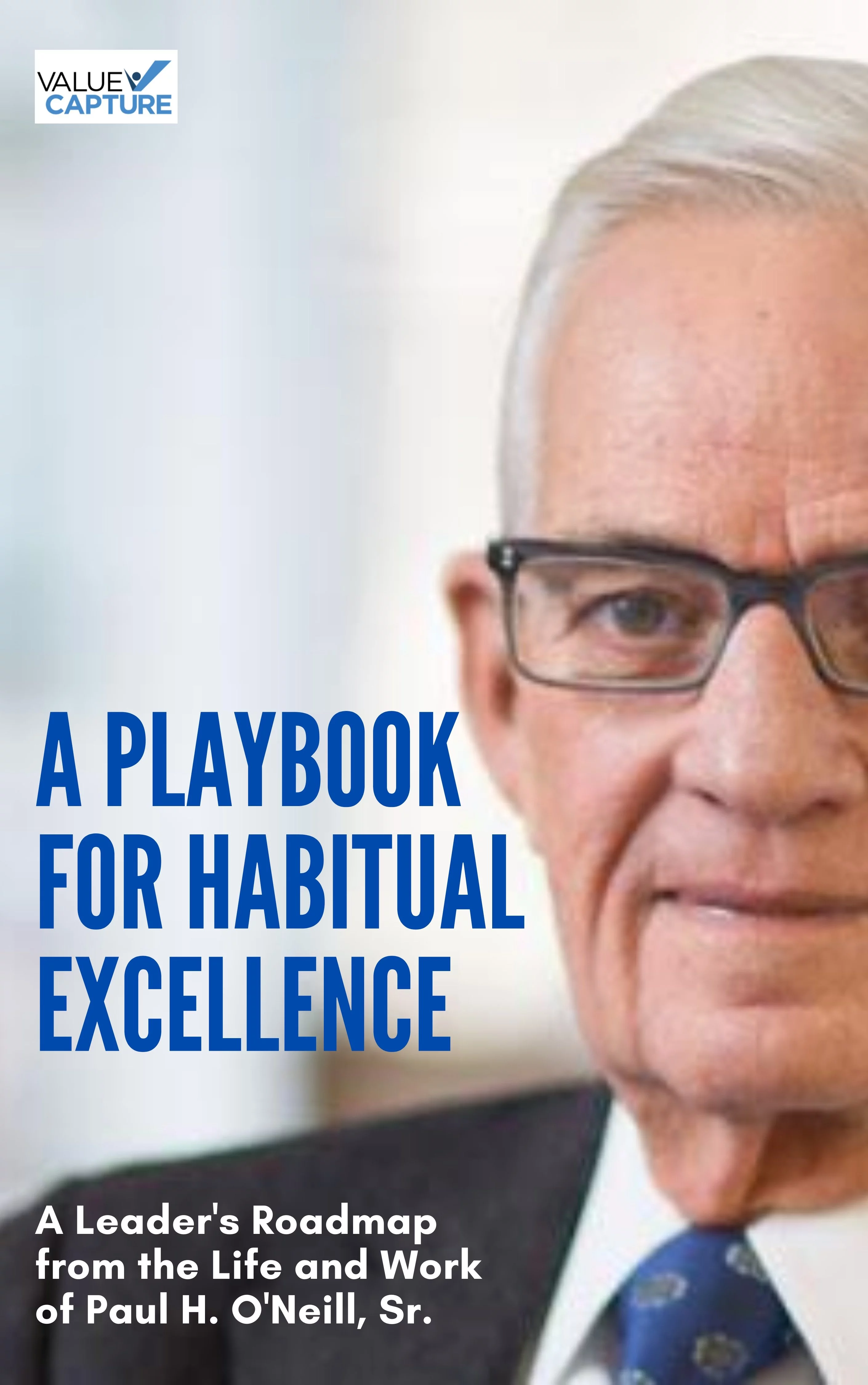 Scroll down for more info about the book.
Download now using the form:
A Playbook for Habitual Excellence: A Leader's Roadmap from the Life and Work of Paul H. O'Neill Sr.
If you prefer, the book is also available for $2.99 via the Amazon Kindle store. If you are a member of the "Kindle Unlimited" subscription program, you can borrow the book for free. You can also buy it as a paperback for $9.99. All royalties are donated to one of Paul O'Neill's favorite causes, The Neighborhood Academy.
Book Description
Every leader aspires to be excellent, to inspire excellence, and to lead a great organization. The question, of course, is how to achieve these goals. One possible path is to understand and learn from leaders whose principles and practices have demonstrated the "how." One such leader is Paul H. O'Neill, Sr. (1935–2020), former U.S. Treasury Secretary, former CEO of Alcoa, and a person who impacted U.S. healthcare policy and played an integral role throughout Value Capture's history.
Paul would often ask other leaders, "What do you want your legacy to be?" He asked that as a way to get people to think well beyond themselves at that moment, and think of what they could influence and build in themselves and others for a better future. One element of Paul's legacy is the speeches that he gave over the years, sharing his experiences as a leader, to try to provide other leaders with guidance on how to achieve goals of excellence.
A Playbook for Habitual Excellence: A Leader's Roadmap from the Life and Work of Paul H. O'Neill Sr. collects a few of Paul's most notable speeches and Senate testimony. The principles that were Paul's True North are made clear, and hopefully, will help light the path that you take as a leader. We hope you find his words to be inspiring, informative, and useful.
Value Capture is pleased to present this as a complimentary PDF eBook.
Fill out the registration form below to receive the free PDF. You can also download another free eBook, "Lasting Impact" about the work and legacy of Mr. O'Neill. Click here to download both books using a single form.
By registering to receive this eBook, you will also receive occasional email newsletters and other email communications from Value Capture. You can unsubscribe at any time.