Are financial pressures, nursing turnover, or patient and staff safety issues keeping you up at night?
Healthcare systems across the country are facing these same challenges. Some are resorting to layoffs and other drastic measures, but there is a better way.
Paul O'Neill, Sr. adopted the framework of habitual excellence and the use of "theoretical-limit thinking and systems," which enabled Alcoa to reduce recorded injury rates and lost workdays, saving the organization millions of dollars. All while increasing revenue by nearly $20 billion dollars.
---
This framework has proven to be successful in healthcare organizations.
Duke HomeCare & Hospice reduced nursing turnover from 75% to 19% in just one year
Prisma Health rapidly improved its Leapfrog grades, achieving A's in 3 of their hospitals
---
Join healthcare leaders from across the country for a transformative experience at Value Capture's Enduring Excellence seminar. Discover innovative insights and actionable strategies designed to empower you in your role as a healthcare executive. Here's a closer look at what you can expect:
The seminar is thoughtfully split into two half-day sessions, allowing us to make the most of our time together and requiring less time away from your organization.

On the first evening, indulge in a delightful cocktail and dinner networking event, providing the perfect setting to connect with like-minded peers, share experiences, and build valuable connections.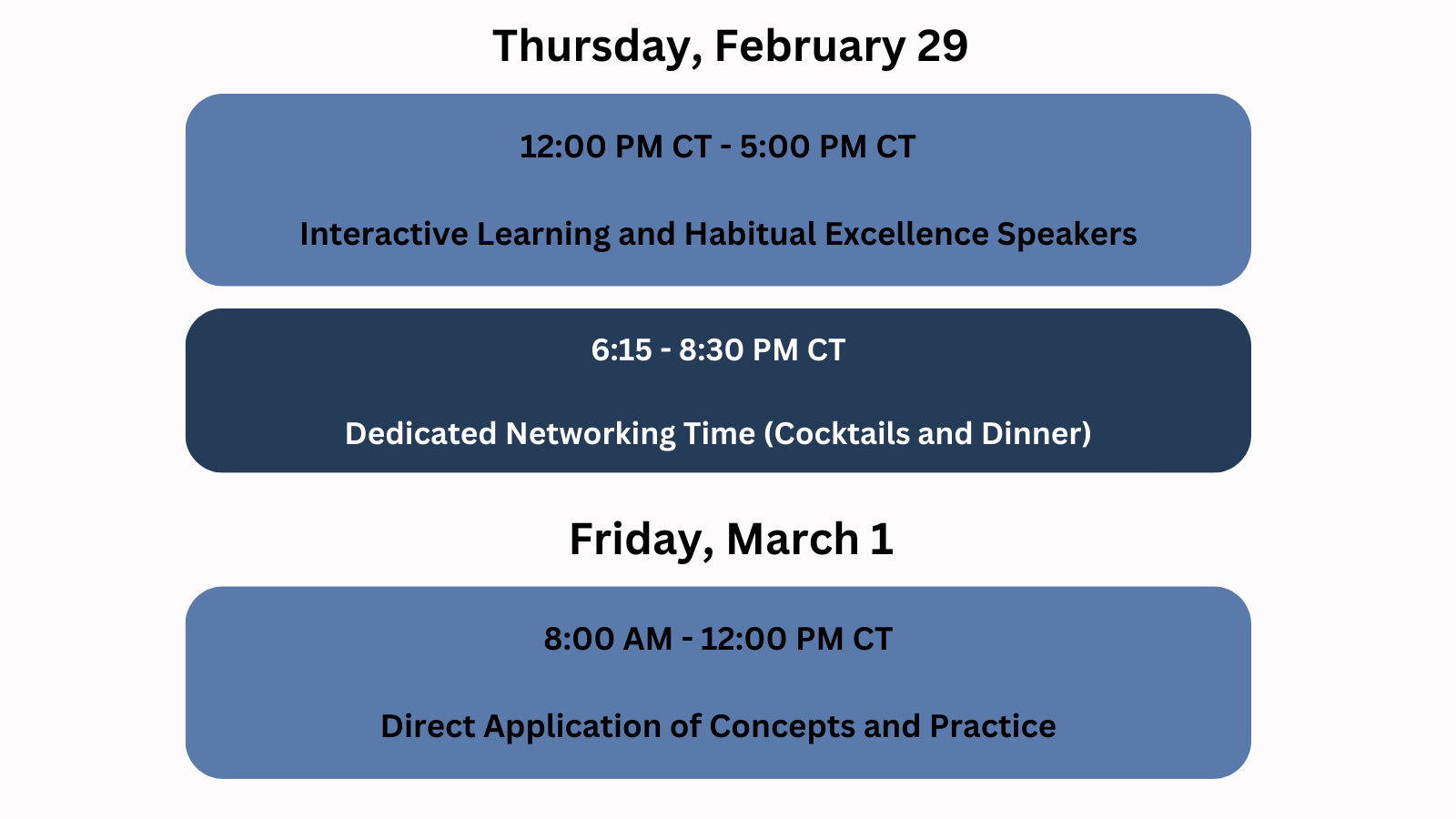 At the heart of the seminar are thought-provoking presentations from speakers offering innovative perspectives and real-world success stories and challenges. You will engage in interactive discussions with peers to share experiences and practical solutions and leave with a tangible, actionable plan to drive positive change within your organization.
After attending this seminar, you will be able to:
Understand how the framework of habitual excellence has been applied in healthcare to solve organizations' most fundamental challenges

Identify the difference between "theoretical limits" and traditional goal setting

Discuss the unique key role senior leaders play in achieving zero harm

Discover new peer-to-peer connections

Design an action plan to help you and your organization take the next steps toward habitual excellence
Speakers will Include:
Michael Bundy, Midlands Market CEO
Bill O'Rourke, Former Vice President of Environment, Health and Safety, Sustainability, Alcoa; Board Member, Merit Leadership, Inc.
Pete Loper, MD, Medical Director and Executive Coach
Ken Segel, CEO at Value Capture
Enduring excellence is not just an event; it's a transformative experience that equips you with the tools and knowledge to lead your healthcare organization to new heights. Don't miss this opportunity to enhance your skills, expand your network, and make a lasting impact on your organization.
Leading with Safety was a great seminar that featured outstanding and engaging speakers who help leaders face today's complex healthcare environment. Here you can learn about a different way to lead from some of the best. This experience has helped me understand how to engage our workers around our mission

Ted Boyse, MD CMO, Duke Raleigh Hospital

The richness of the diversity within the classroom allowed all of the participants to apply a systems thinking lens to solving our most challenging healthcare problems. The intimate class size allowed for immediate application and use once we returned to our organizations.

Maria Hamilton Vice President, Performance Excellence, Penn State Health

This seminar is grounded in systems thinking and addressed local and national challenges in healthcare. Participants were able to obtain individualized mentoring due to the intimate class size.

Healthcare Vice President

I was challenged to think differently about performance excellence in a good way. Seeing and hearing from healthcare executive leaders who are making meaningful differences in the lives they serve was inspiring.

Physician in Chief

The balance between the facilitation from Value Capture with the evidence and insight from a system doing the work was inspiring.

Jeffrey Simmons Chief Value Officer, Children's Hospitals and Clinics of Minnesota

This seminar made the best business case for why leading with safety and focusing on doing the routine things routinely well that I have ever heard. I wish all healthcare leaders could hear it.

Lee Erickson Physician Executive

Exceptional demonstration of what habitual excellence looks like in action and how leaders can unite a workforce to achieve it.

Emily Chapman Chief Medical Officer & SVP Medical Affairs, Children's Hospitals and Clinics of Minnesota

Thank you to Value Capture for your commitment to helping improve healthcare through effective guidance on principles for habitual excellence and for helping us focus on what matters most to those we serve and our teams.

Caroline Njau Sr. VP Patient Care Services & CNO, Children's Hospitals and Clinics of Minnesota

Valuable time spent as a team to understand the need to identify priorities, create accountability tools to validate processes, and engage team members.

VP & Chief Operating Officer

This was an excellent seminar that will help us start on a journey of habitual excellence.

Priya Kumar Healthcare Executive
Event Details
Location: Otis Hotel - Autograph Collection, 1901 San Antonio Street, Austin, TX, 78705
The nearest airport is Austin-Bergstrom International Airport (AUS) - about 8 miles from the hotel
*Please note that this seminar is intended for health care CEOs and other members of the C-suite or board members that they choose to bring. If you have questions about whether this seminar is right for you, please contact Courtney Dunning before registering.
Cancellation Policy:
If cancellation is received after February 9, 2024, a refund will be issued minus a $200 cancellation fee, per person. If a registered attendee does not provide written cancellation prior to the program date and does not attend, no refund will be issued.
If we have fewer than 10 attendees registered by February 9, 2024, Value Capture may cancel this seminar. All participants will be notified by email and full refunds will be issued for the registration fee. No refunds will be provided for travel expenses participants may have incurred.