"With leadership, anything is possible, and, without it, nothing is possible."
Healthcare leaders face multiple, complex challenges throughout their enterprise every day, which leave little time or capability to nurture the improvement and learning systems needed to fulfill the system's mission. Value Capture, a trusted advisory partner of healthcare executives and their teams since 2005, supports leaders to dramatically improve performance in measures including safety, quality, and profitability. The foundation of our approach is rooted in the principles-based, theoretical-limit thinking of the late Paul O'Neill, Sr., which sets goals at perfect, such as zero harm for all.
O'Neill's focus on safety for all as a pre-condition for all work is a powerful aligning principle for everyone in the organization, continually infusing energy to build the skills and systems needed to achieve and sustain excellence. As CEO of Alcoa, O'Neill proved that when you create "habitual excellence" around safety, the organization ends up improving performance in all measures.
What is Needed to Transform an Organization?
"Value Capture offers leaders the hope, through proven principles, of perfecting outcomes while saving literally millions of hard dollars. The approach produces those results by helping frontline staff succeed in meeting needs every time – which builds skill, satisfaction and morale in a remarkable way. I would not be where I am without my learning from the people at Value Capture."
The transformation to habitual excellence is happening when 30% – 50% annual gains are made across measures of safety, quality, delivery, people, and finance, throughout the organization. That is a stiff test, but in our experience, it is absolutely feasible where:
Leaders embrace change in the way they do their work by ceding most problem-solving to the subject matter experts – typically the frontline workers and managers;
The culture, lived and felt throughout the entire enterprise, is a learning culture, where an experimental mindset and approach to work, improvement and management systems is expected because it has become the "way we do our work";
Everyone is aligned around the goal of developing every person to be able to perform at their highest level, in a way that brings meaning to their life.
Leader-Led, Expert-Advised
Our work begins with the executive leadership team. The focus is safety – physical safety and psychological safety. Without psychological safety throughout the organization – meaning people are safe to call out problems and collaboratively find solutions – improvement cannot sustain and excellence will remain elusive. We focus on developing capabilities within the leaders to see with a different lens, do (help others solve problems) and teach this to their teams. This creates a cascade of learning and serves as the example for the rest of the organization.
"I have found that we are called to transform, personally and as an organization, by this work. We have also learned the importance of establishing professional and emotional safety in the pursuit of eliminating all harm and risk as a part of having constancy of purpose as an organization."
We have high expectations of our partners, as they have of us. The Value Capture team, with more than 500 combined years of experience employing continuous improvement principles and methodology in healthcare systems, aims for the theoretical limit of performance. We are a Licensed Affiliate of the Shingo Institute, and proud to teach Shingo's framework of enterprise excellence.
---
Our Mission:
Our mission is to help create model healthcare systems that measurably demonstrate that a people-driven learning culture of zero harm is the foundation for dramatic improvements in health outcomes, patient and employee engagement, and the bottom line.
Our mission, vision, and values
---
Selected Client Results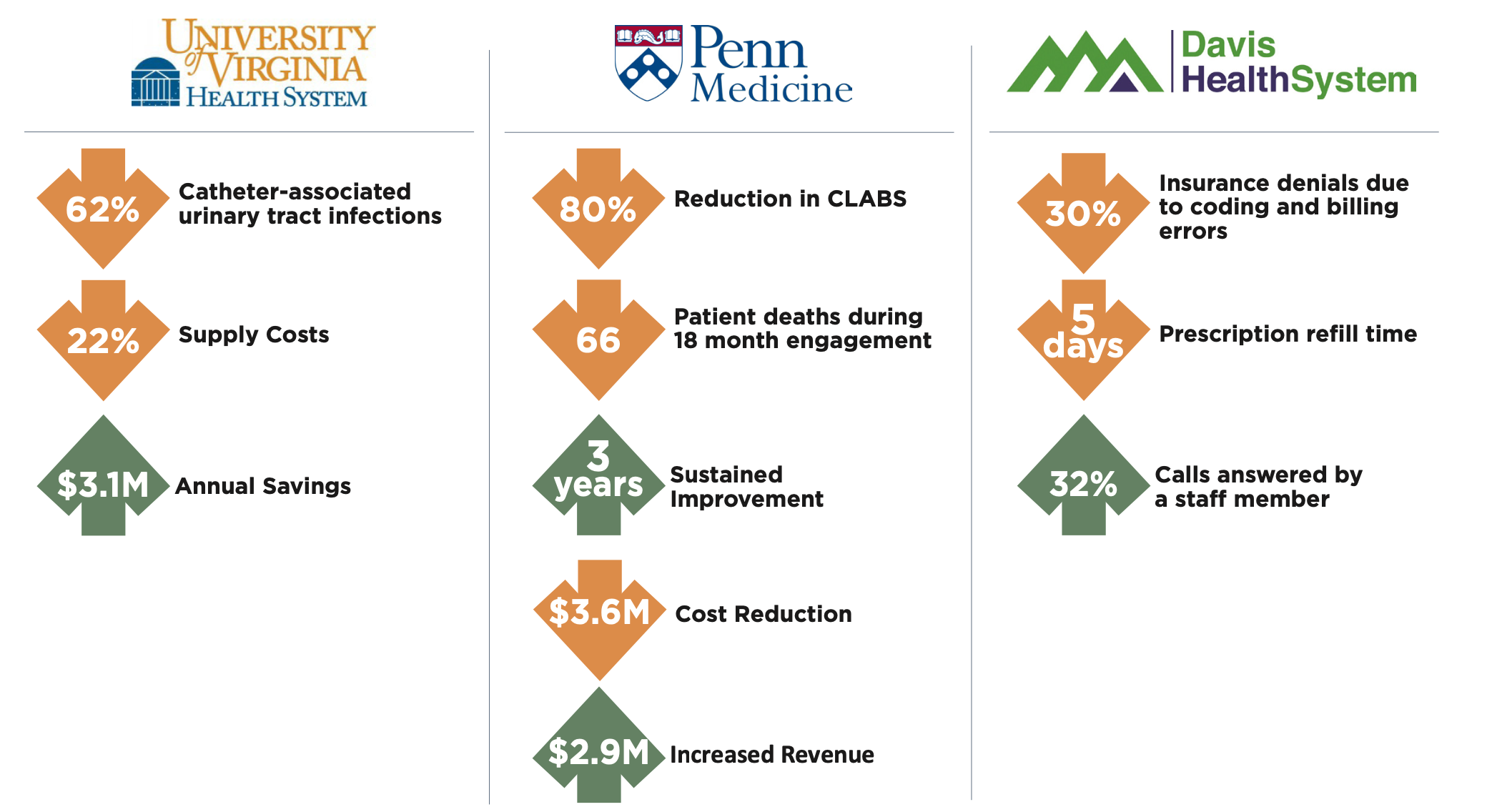 Download This Page as a PDF
Would you like to share this information with others in your organization as a handy PDF? If so, fill out this form:
More About Our Work — Our Model
Case Studies
Talk With Us