reduction in endoscopy appt wait time
Key Results:
Wait time for endoscopy appointment from 275 days to 6

Impact: Catching cancer earlier
Leveraging Inarguable Priorities To Accelerate Specialty Care For San Mateo Medical Center Patients
Almost by definition, when a primary care physician identifies a need for a patient to obtain care or consultation from a specialist, time is of the essence. The realities of provider and patient schedules and logistics often interfere with timeliness, however, and unfortunately, the gap between identification of the need and meeting the need grows. The San Mateo Medical Center (SMMC, a division of San Mateo County Health [SMC Health]), decided to tackle this issue as a key action toward fulfilling its mission to "partner with patients to provide excellent care with compassion and respect."
From 2016-2018, Value Capture partnered with SMC Health to help advance and accelerate its work to continue building a culture of Organizational Excellence, to better serve its patients, communities, and more deeply engage its workforce. SMC Health was not new to Lean when Value Capture began working with them, as they had begun to learn and execute many kaizen (incremental improvement) projects in 2012. Gains were achieved, thanks to those projects, but not often sustained, and SMC Health recognized that a true, principles-based model of improvement was needed to deeply embed and spread continuous improvement throughout the health system. In this work, Louise F. Rogers, Chief of SMC Health, executive leaders, and a large number of managers, supervisors and frontline staff, have been working together to build the Daily Management, Improvement and Work Systems.
Dr. Chester J. Kunnappilly, the CEO of SMMC, gathered a team of clinical leaders and professionals from the LEAP Institute (the Performance Excellence department of SMC Health) to begin a structured, rigorous methodology of problem solving. Their Improvement Charter (an "A3" in Lean terminology) provided an objective, evidence-based platform from which the team would launch designed experiments, evaluate results, adjust action plans and relaunch experiments. This iterative process centered on SMC Health's development of Inarguable Priorities, starting with "Eliminating Harm" as an aspirational, principle-based goal, toward which improvement thinking within SMC Health is first directed.
Eliminating Harm – Specialty Services Improvement Charter
One example of transformative improvement work undertaken by SMC Health is SMMC's "Specialty Services Improvement Charter." This Charter outlines the scope of the problem to be solved, i.e., the patients' need, which the Charter describes as, "All SMMC patients need to receive high-value clinical care in a timely, and convenient manner. Care should be patient-centered, welcoming, and focused on optimizing outcomes, as well as achieving patient goals."
Weeks of information-gathering and understanding of the processes involved in connecting primary care patients to specialty care followed, so the team could clearly identify gaps between the current and target conditions, and identify measures toward which gap-closing experiments would be run.
| Measure | Baseline value | Current value | Ideal value |
| --- | --- | --- | --- |
| Avoidable emergency room visits related to unmet specialty needs | 22/mo | 22 (April 18) | 0 |
| Specialty needs met out of SMMC | 20-74% | pending | 0% |
| Lead time from when need is identified to when need is met | 45 days | 33 days | 0 |
| Likelihood to recommend Specialty Clinics | 88.1% | 64% | 100% |
| Patient Self Assessment of Health – Primary Care | 28.7 | pending | 100 |
| Patient Self Assessment of Health – Specialty Care | 39.5 | pending | 100 |
The team engaged in an analysis to determine the root cause of the problem, and created a drawing of the target condition – how a patient would promptly receive specialty care in as close to real time as possible, once the need was identified. A detailed action plan was then devised. This plan essentially comprised an experiment to close the gaps, to prove – or disprove – the team's hypothesis, "If we take X action, then Y will result."
This willingness of leaders and staff to be open to possibly "failing" by experimenting is a vital key to effecting and embedding improvement. A "failed" experiment is not a failure in the typical sense of the word. It is a door to understanding and learning, and thus building the next experiment based on real-time knowledge, and getting closer to a real solution.
Attacking the Problems
The team decided to attack the problem via four pathways:
Pathway 1: Meeting a patient's specialty care need in primary care
Pathway 2: Meeting a patient's non-surgical specialty care need that is identified by their primary care team
Pathway 3: Meeting a patient's surgical or procedural specialty care need
Pathway 4: Meeting a patient's specialty care need that is identified when they are in our hospital
Each Pathway was designed in 7-8 week consecutive increments. Each Pathway has presented different challenges, and honed the learning and problem-solving abilities of this team. As of October 2018, Pathways 1, 2 and 3 have been completed.
Pathway 1 Results: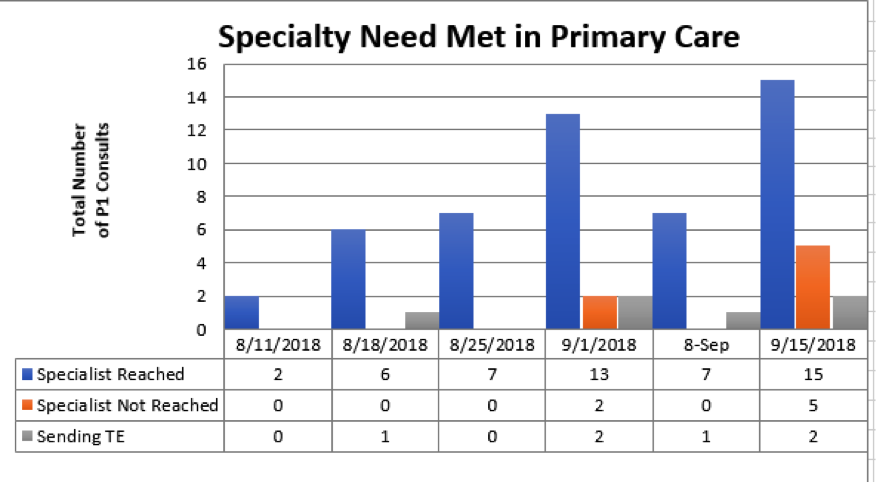 Pathway 2 Results:
Measure
Baseline value (Jan. 2018)
Current value (9/30/18)
Ideal value
Pulmonology Specialty needs met unnecessarily out of SMMC
45% (Mar 17)
Pending
0%
Lead time from when need is identified to when need is met
35 Days
9 Days
0
Likelihood to recommend (Pulmonology)
74.5
(Jun 18)
70.6
100%
Patient Self-Assessment of Health – Primary Care
28.7
28.7
100
Patient Self-Assessment of Health – Specialty Care
39.5
39.5

100
Pathway 3 Results:
| Measures | Baseline value | Test Results | Ideal |
| --- | --- | --- | --- |
| Wait time for Endoscopy at SMMC | 275 days | 6 days | 0 days |
| No-show/cancellation rate for Endoscopy | 33.7% | 0% | 0% |
| Endoscopy referrals sent to providers outside of SMMC | 40% | N/A | 0% |
| Patient Satisfaction | Pending | 100% | 100% |
A Closer Look at Pathway 3
Pathway 3 focused on endoscopy procedures (which include colonoscopies). The chart above shows dramatic improvements, especially in the wait time. How did the Endoscopy Department achieve these important results? The team:
Gathered the information needed to fully understand the current condition, how a patient went from needing a procedure to undergoing the procedure;
Envisioned what a target (approaching "ideal") condition would look like;
Designed experiments to change the work processes involved to flow toward the target.
In other words, these professionals redesigned their work by eliminating waste in the work systems, to deliver the highest possible value to their patients:
Current Condition
Target Condition
Pre-op visits done in endoscopy (3 RNs)
Pre-op visits done in ambulatory units or by phone (~100 nurses)
Prescriptions and referrals on paper
Electronic templates and prescriptions through eCW
Endoscopy staffing schedule and roles for ~32 procedures/week
Changes allow us to meet demand of
60 procedures/week
Pathology results and follow-up recommendations buried in patient's record
GI providers follow up on pathology and put patients on registry for future procedures
Catching Cancer Earlier
How do all these numbers, bullet points, and plans translate into actual patient impact?
Already during testing this process, a patient was given a CT scan to assess potential causes for his upper GI symptoms. The scan results, which were abnormal, were delivered to the primary care physician. The next day, the patient went through the new workflow and had an endoscopic procedure five days later. Cancer was identified, and the patient was immediately referred to Oncology.
To be a provider, executive, registrar, transport, food services worker, maintenance staff member, payroll clerk, IT specialist, or any other role in a healthcare system, means that person is dedicated to making people's lives better. San Mateo County Health understands that, and cares deeply about its patients and its workforce. The work that dozens of people took on in this particular Improvement Charter, and the work that continues (as well as the work taken on by many dozens of people on many other Charters), is making significant positive impacts on patients and staff.
Taking the Inarguable Priority of "Eliminating Harm" to heart (rather than shrinking from a seemingly daunting goal), from the Executive suite to the SMC Health frontline, is actually working "To help everyone in San Mateo County live longer, better lives."
Podcast with Vance Jackson
Vance Jackson talks about the benefits he and his fellow leaders enjoy when they go to nursing units, the E.D., and other areas where patient care is delivered, where they silently observe the work that is done. Hear Mr. Jackson talk about many other learnings in building and deploying the Davis Way, the way he now thinks about safety (for patients and staff), and the focus Davis Health System will take in its improvement journey, in this podcast with Mark Graban.
Ready to start a conversation with Value Capture?
We'd love to talk with you about the challenges you're facing.