April 13 - 14, 2022
Hosted by Penn Medicine Lancaster General Health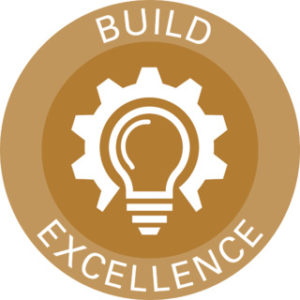 Join us April 13-14, 2022, for this in-person (or hybrid) two-day capstone workshop, which solidifies the knowledge and experience gained from the previous Shingo workshops (see prerequisites below). Build Excellence demonstrates the integrated execution of systems that drive behavior toward the ideal as informed by the principles in the Shingo Model. The workshop helps to develop a structured approach to execute a cultural transformation, and addresses the Shingo Model in its entirety by developing a structured approach that will accelerate a cultural transformation.
In this final, capstone workshop, you will learn how to build systems that drive behavior that will consistently deliver desired results. You will:
Discover how the

Shingo Model

strengthens the execution of your strategy.
Learn how to shift your culture, guided by organizational purpose, to the next level.
Use Go & Observe to understand the practical application of the Shingo Model.
Accelerate your cultural transformation by applying the learnings gained from the Shingo Model into a PDCA cycle.
Please join Value Capture Senior Advisor Shana Padgett and host Penn Medicine Lancaster General Health. This workshop is planned to be in-person or hybrid, but may change to fully remote depending on conditions at the host. The registration fee is $1,400; PLEASE NOTE, Discover Excellence, Systems Design and one of the deep-dive workshops – Cultural Enablers, Continuous Improvement or Enterprise Alignment – are prerequisites to this workshop. Please click here to learn more and register. We look forward to continuing the learning journey as we work toward enterprise excellence.
To learn more about how Value Capture sees the Shingo Model, the Guiding Principles and the workshops, please listen to our Habitual Excellence podcast episode, featuring Shana Padgett, Ken Segel, and Mark Graban.