Background
The Value Capture leadership model provides a framework for leaders seeking to transform their organizations to simultaneously produce unprecedented results in:
Safety/Quality
Cost
Lead Time
Building on the foundation of leadership, from the bottom up, each element sequentially develops the organization's capacity for rapid improvement.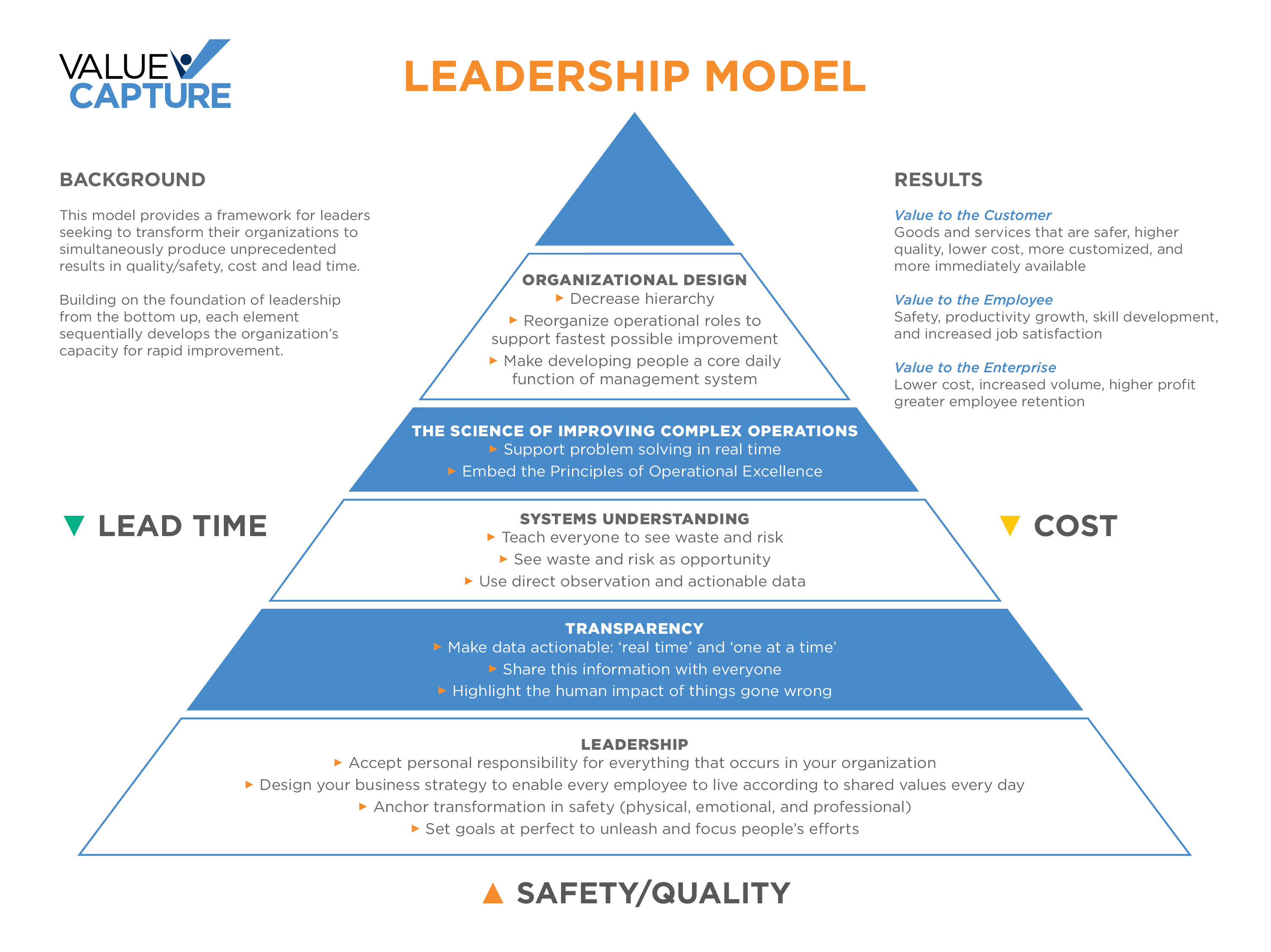 Results
Using this model, leaders and their organizations simultaneously strive for results in three key areas, without tradeoffs between safety/quality, lead time, and cost. Working together, we can strive for "habitual excellence" and the "theoretical limits of performance" in all measures simultaneously.
Value to the Customer
Goods and services that are safer, higher quality, lower cost, more customized, and more immediately available.
Value to the Employee
Safety, productivity growth, skill development, and increased job satisfaction.
Value to the Enterprise
Lower cost, increased volume, higher profit, greater employee retention.
The Core of the Model
The model requires participation and leadership across five different dimensions. Starting with the foundation...
Leadership
Leaders at the very top of the organization must:
Accept personal responsibility for everything that occurs in your organization
Design your business strategy to enable every employee to live according to shared values every day.
Anchor transformation in safety (physical and psychological)
Set goals at perfect to unlead and focus people's efforts
Transparency
Leaders, at all levels, must:
Make data actionable: 'real time' and 'one at a time'
Share this information with everyone
Highlight the human impact of things gone wrong
Systems Understanding
Leaders, at all levels, must:
Teach everyone to see waste and risk
See waste and risk as opportunities
Use direct observation and actionable data
The Science of Complex Operations
Leaders, at all levels, must:
Support problem solving in real time
Embed the Principles of Operational Excellence



Organizational Design

Leaders, at all levels, must:

Decrease hierarchy
Reorganize operational roles to support the fastest possible improvement
Make developing people a core daily function of the management system