Why Focus on Employee Safety?
Nationwide, worker's compensation losses result in a total annual expense of $2 billion for hospitals! Hospital work can be surprisingly dangerous, and injuries and illnesses come at a high cost. Workplace safety also affects patient care. More staff members are injured in the healthcare and social assistance industry sector than any other. This industry has one of the highest rates of work-related injuries and illnesses.
Better employee safety leads to better patient safety. As many say, take care of the staff so they can take care of the patients.
How we do improve patient safety and employee safety? By focusing on:
Physical safety for providers and patients starts with a foundation of psychological safety.
It's More Hazardous to Work in a Hospital than in Construction or Manufacturing
U.S. hospitals recorded 253,700 work-related injuries and illnesses in a recent pre-pandemic year, a rate of 6.8 work-related injuries and illnesses for every 100 full-time employees.
This is almost twice the rate for private industry as a whole.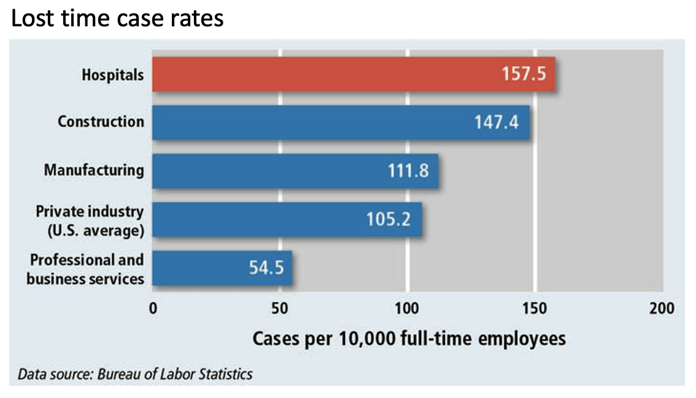 The average hospital experiences $0.78 in workers' compensation losses for every $100 in payroll. Nationwide, that means a total annual expense of $2 Billion! We can do better — we must do better.
---
Healthcare Safety is Improving, But We Need Accelerators
This graph, below, shows injury and illness rates per 100 full-time equivalent employees (FTEs)—also known as the Total Case Incidence Rate (TCIR)—in hospitals and selected other industries from 1989 to 2011.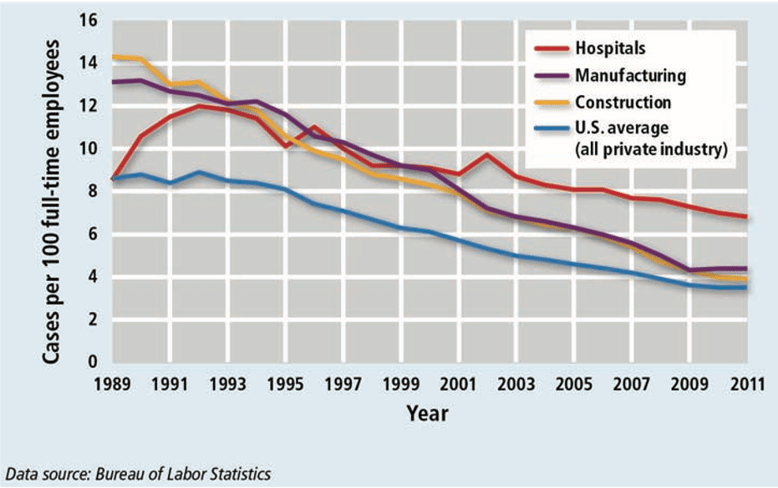 The increase in hospital injuries and illnesses in 2002 is believed to reflect more complete reporting of sharps injuries in conjunction with OSHA's expanded Bloodborne Pathogens Standard.
This figure includes data for all OSHA-recordable injuries and illnesses, regardless of whether they resulted in days away from work or modified duty assignments.
"Days away" injuries, workers' compensation claims, and other analyses show a similar pattern of consistently elevated injury rates for hospitals.
---
Safety Matters Most
Achieved largest region-wide reduction in HAIs and multiple reductions of infection rates > than 90%.

Sustained over two decades of sector-leading safety results in infection transmission prevention and staff safety.

Clients with no team members contracting COVID from an inpatient exposure

YTD

.
"If I had to highlight the essence of what we've done [working with Value Capture ] it's been 1) shrinking the distance between leaders and clients and the frontline staff who serve them; and 2) getting faster and better at solving problems and preventing problems."

-- Srija Srinivasan, Deputy Chief, San Mateo County Health System ​
Safety as a Foundation at Toyota
From the roots of Lean, read what Taiichi Ohno had to say in the context of the Toyota Production System and safety:
"Every method available for man-hour
reduction to reduce cost must, of course, be pursued vigorously," he said, according to Jeffrey M. Liker's book,
The Toyota Way
.
"But we must never forget that safety is the foundation of all our activities."
Value Capture has been deeply influenced by our teachers and mentors from Toyota.
---
Value Capture's Roots Are in Safety
Another one of our key mentors was the late Paul H. O'Neill, Sr. From 1987 to 2000, as CEO of Alcoa, he led the once-troubled aluminum giant to become the world's safest organization, while increasing its market size by 800%. He showed that a strategy anchored in values and something that mattered more than making aluminum — safety — could unleash remarkable performance across more than 140,000 people around the globe.
The chart below shows the reduction in lost workdays, a trend that continued after O'Neill's departure.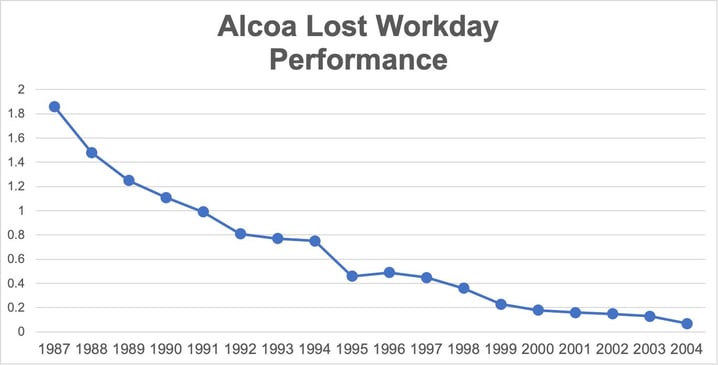 "Paul, as a volunteer, taught and energized the spread of the safety and operational excellence movements to healthcare, personally inspiring some of the earliest proof that long-accepted injuries and rates of medical error could be eliminated, the quality of medical outcomes could be dramatically increased, and the wastefulness that drives up the costs of care eliminated."
As Dr. John Toussaint wrote, in the foreword to the book:
"I first met Paul at an Institute for Healthcare Improvement (IHI) meeting in the early 2000s. It was a meeting on patient safety. All he could talk about was employee safety.
I didn't understand why he was talking about that at a patient safety meeting.
It would take me ten years to finally understand that patient safety starts with employee safety.
Without employee safety, there can be no commitment to safety at all.
In this time of the Covid-19 pandemic, Paul's legacy has become even more real and important. Tens of thousands of healthcare workers have become infected — hundreds have died — mostly due to healthcare leadership shirking the responsibility of keeping staff safe."
The entire team at Value Capture has been influenced by the O'Neill approach to safety, leadership, and habitual excellence.
As Toussaint continues:
Let's consider what healthcare leaders and all leaders must do today to truly be living the legacy of Paul O'Neill.
First, set a goal of zero workplace injuries.
That is what Paul did at Alcoa and he made that company the safest in the world for workers. Duke Health has done it during Covid-19 and has achieved zero staff infections as of June 15, 2020. Leaders delivered all the personal protective equipment where and when it was needed. Leaders had a relentless focus on keeping staff (and patients) safe. In fact, leaders and staff started safety huddles each morning by reciting a pledge to "commit to zero harm for our patients, their loved ones, and ourselves."
Second, staff safety must become the most important value in the organization.
No other priority can take precedent. Torrance Memorial hospital in Los Angeles is a wonderful example. During Covid-19, instead of furloughing staff, leaders redeployed them to make face shields and disinfectant wipes and to check temperatures of staff and patients at the door. The mostly outpatient staff were thrilled — not only to have a job — but to be doing meaningful work that supported their colleagues in the ICU.
Third, make staff safety transparent.
At Alcoa, everyone in the company knew when an injury occurred and what was done to make sure it never happened again. The same is true at International Hospital Corporation in Costa Rica. All injuries are reported in a daily report. Root cause analysis must be completed on injuries within 48 hours. New processes that assure the injury can't happen again are rapidly shared with everyone in the organization.
Fourth, create a daily management system that focuses on safety.
This system should bubble up many problems. Safety problems should be the top priority. At Morningside Hospital, part of the Mt. Sinai health system in Manhattan, multiple daily huddles were occurring during Covid-19. Problems were quickly identified and addressed. After a patient was intubated, the respiratory arrest team reported back that the necessary PPE to protect the multiple members of the resuscitation team were not available. The huddle system led to the creation of PPE "bags-to-go." The bags contain enough full sets of PPE for nine people and are placed on the resuscitation carts.
Finally, don't use frontline caregiver heroism as an excuse not to act.
Caregivers act heroically only when there are insufficient systems in place to support getting the work done. They must develop more and more workarounds like moving the ingot by hand because the conveyor was broken. Every workaround leads potentially to a safety problem. Leaders and managers must create a management system that immediately addresses worker problems and trains the front line to solve the problems themselves."
Thanks again to Dr. Toussaint for sharing his lessons and advice for other leaders.
In the introduction to the Playbook, Paul O'Neill, Jr. wrote:
"I believe that, early on in his career at International Paper, he realized that worker safety could be a key driver for performance improvement. In his mind, if you said your employees were your most important asset, what better way to prove it than by building a leadership framework and system for every employee that made it possible to eliminate worker injuries in your workforce. This methodology could then be applied to all things that an organization tried to achieve in the pursuit of excellence. By the time he got to Alcoa, he knew what was possible and he proved it.
Dad passed at a time when we were just learning that at least one of the healthcare leaders he counseled had produced a staff safety record that had finally passed Alcoa's on the way to zero, just as Alcoa had passed DuPont long ago. That is just as he would have wanted it. And he would be the first to remind us that should be the standard for every healthcare leader."
More From Paul O'Neill, Sr. on Safety
Here are some additional excerpts from the O'Neill speeches that are presented in the Playbook publication.
"At the top of my list [when I started as CEO of Alcoa] was safety. I tell you why safety was at the top of my list.
One of the things I had discovered working with a lot of different organizations, every organization of any size that I've ever had anything to do with... I'll bet it's true here. There's an annual report. It says in the annual report, "Our people are our most important resource."
It's almost like it's an obligation for people who sign their name at the bottom to say, "Our people really matter a lot. They're our most important resource." I would say, in most places, it's not true.
If it were true [that people are our most important resource], people would not be hurt at work.
If it's your most important resource, why wouldn't you organize yourself in such a way that the people who are supposed to be your most important resource, are never hurt at work?
...
I said, "I want you to know I really mean it. So, to those in the supervisory workforce, this is what I want to say. I do mean it and we in Alcoa are never going to budget for safety again.
We're not going to budget for safety.
"As soon as anyone in this place identifies a risk that could cause someone to be hurt, I want you to fix it. And, for you supervisors, don't worry about it. I will figure out how to pay for it.
...
One of the things we did early on was to create the Alcoa real-time safety data system with this idea. It was interesting. I have a sense that you have some of this pace going on in your own organization now.
I said to these two young women who had recently graduated from Carnegie Mellon, "I want to create a real-time safety data system so that all of our locations in the world can hook up to the Internet every morning and post on a real-time basis every near-miss, every OSHA recordable, every lost-workday case, every incident beginning with the name of the person.
I'll tell you why I wanted to do it by name. It's the same as the 1,000 line days thing. I wanted it to be human. I didn't want it to be about numbers. I wanted the name so people would say, "Oh, my God! I know Mary. I know Mary."
If you can identify things gone wrong in real-time and solve them in something like real-time, and share the learning, you can lever an organization so that it can achieve amazing things.
Read more of the collection experience and wisdom of Paul O'Neill:
---
Podcasts on Employee Safety
Safety is a frequently-discussed topic in episodes of our podcast, Habitual Excellence.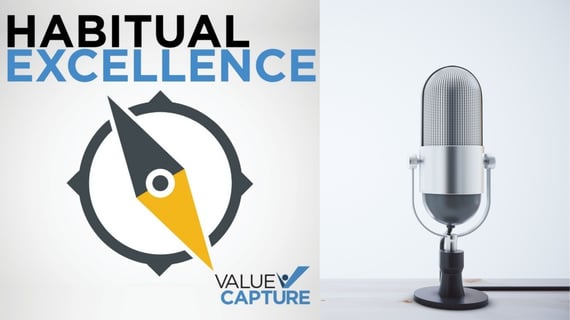 Some of these episodes include:
"It really started with the notion that we needed to have a big vision, an aggressive, audacious vision for where we wanted to get to.
You had to be persistent about wanting to achieve it. When people started to see progress and started to see real results, it had an impact across everything that we did. I think it changed everything.
I think for Mr. O'Neil, he certainly focused on employee safety and the notion that you could not stop until you got to zero, vthat zero was possible."
McGaffigan: "And Paul was literally the first person I met beyond the staff of my new organization. I will never forget that day. He kicked it off with his emblematic gusto and passion, and he decried the inexplicable state of workforce harm in our profession, as well as the complacency that existed with our acceptance of workforce harm as collateral damage, which was so far away from Paul's realization that theoretical limits of zero were the place that we really needed to be.
So the resulting report and recommendations that Paul led were, I believe, one of the most foundational milestones in advancing workforce safety and health care. And it served as the basis for so much of what we've done to date.
Now, the connection here ties to workforce safety, but I really think it's so much bigger than workforce safety in and of itself, because as you just mentioned, Paul was, and he embodied so much around those foundational areas that we're talking about specifically when he looked at the things that we have to tackle to be habitually excellent."
Mate: Workforce safety and patient safety "absolutely go hand in hand, of course. The report that Patricia describes, the National Action Plan chronicles the notion of a total systems approach to total system safety, the idea that you really can't have a safe patient population without a safe and healthy caregiving population and workforce. If you have an unsafe, unhealthy, or indeed absent workforce, how can we have a safe and well cared for patient population?
A healthy and joyful workforce are absolutely critical to more error detection and mitigation."
---
"When I came as the Chief Safety Officer and I was supposed to build their safety program, and he said, 'These are OSHA recordables.' And I said, 'what are those?' I didn't even know what they were. So that's another fault of the healthcare world, when you look at the organizations that do safety, AHRQ, IHI, a lot of our big [organizations] that everybody follows for safety training, they do patient safety, but they don't do employee safety.
And so my learning was that we're one of the highest causes of serious injuries to employees of any industry in the country.
So when you do a safety program, the tactics, you use, the methods you use -- the rounding, whatever it is, it's the same stuff for patient [safety] as it is for employee [safety].
And so I was one of my attractions to Trinity was they were incredibly committed to doing those two together from the top leadership. And so that's, what's exciting, but I have no idea why we didn't include employee safety in our safety work in the past in healthcare. That's a very shortsighted process and there's still a lot of people in healthcare that just focus — and their name is Chief Patient Safety Officer or Patient Safety — and that's all they do [focus on the patient].
---