We are clearly still in the Covid pandemic era, with the rise in omicron variant cases and the continued overburden of health systems around the United States.
Looking for light at the end of the tunnel, we have an opportunity to start thinking about (and start planning for) recovery from the stresses and strains of providing healthcare during the pandemic.
Thoughts From CEO Eric Dickson, MD
In the latest episode of the Habitual Excellence podcast, I had the opportunity to ask Dr. Eric Dickson, the CEO at UMass Memorial Health about this.
Here is a partial transcript of the episode, slightly edited:
Mark Graban (32m 27s):
Looking forward a bit, you talked earlier about how staff are exhausted (and that's a really widespread problem), and leaders and their employees are going to be trying to figure out how to recover from that exhaustion. Have you started having conversations with people about some things that you might do to help in that recovery?
Dr. Eric Dickson:
We have, and it's probably the biggest concern we have coming out of this, is that just how much people have been through. We have already a significant percentage of the healthcare workforce that has retired or left healthcare. And that's having very negative ramifications on the industry as a whole.
And I think there's a couple of things that we can, we can do that, that make a difference. And first you've got to see leadership in the areas where the stress is. I spent yesterday all day at one of our community hospitals.

It's a community hospital that is getting hit the most with this surge and just walking around and talking to our, our nurses, our doctors that were caring for patients, went into COVID units, had to bring all my stuff to be, to be ready and with them and just telling them just how much I appreciate it, but how much the community appreciates it and help to trying to attach them to the mission.
And we're very fortunate in healthcare that when you really think about what we do, and sometimes you forget, it's like people are coming to us at the very worst times of their lives and asking for help, and we help them.

And we save lives every day in this organization that you attach yourself to, that's an outstanding way to prevent burnout.
And I don't know how Mother Teresa never got, you know, burnt out, but it was always being attached to saving those children.
And so this constant reminder here in healthcare, what we do and why it's so important.
And then there's a lesson I learned a long time ago about the power of you helping someone else that's going through the same thing. And there's a very fascinating book about going through Navy Seal training. And it is the candidates that pick someone that they're going to help and get through that are most likely to get through themselves.
So in helping someone else, you elevate yourself.
And so we've, we've adopted this philosophy of, you know, be somebody's best friend at work. One of your coworkers really needs you, and don't just take great care of our patients, but take great care of one another.
And we, we have a couple of experts in the medical school on this, and they said, you know, they did a video that says, no kale latte or yoga class is going to fix burnout for what you're going through right now.
Helping your fellow caregiver get through is, is the key.
And that's, that's a big part of what we have focused on, but when things are going poorly and you're in a leadership role, you've got to get down there with your people. There's no meaning more important than actually being down there. We're where the pain is and understanding that.
Paul O'Neill is right when things are going right, you probably don't need to be there. When things are going wrong, they need to see you. And, and that's been my philosophy and it helped me a lot in my leadership journey.

Mark Graban (36m 29s):
And it seems like a lot of other organizations are going to have to put in a lot of effort to rebuild trust. And it seems like from the decisions that you've made and the approaches that you've taken, that hopefully there's been less erosion of trust. Hopefully, that trust has been strengthened, which sets you up better for recovery it seems.

Dr. Eric Dickson (36m 57s):
Absolutely. And especially now I think that people that just right now are saying,
"Oh, we better really start to take care of our people, because they all have lots of options on where to go right now."
Right. It's a workforce's market right now. And the employers are the ones that are struggling and competing with each other. And I just think of all of the things we did for our people these last two years, and even before that, but it was much more apparent these last two years and think that, yeah, I'm going to have a competitive advantage in trying to retain and recruit new people.
(Hear more about what they've done over the past two years, including ensuring PPE supplies and making a "no layoffs, no furloughs" pledge that they lived up to).

Dr. Eric Dickson (37m 39s):
I mean, right across the street from us. And I wouldn't wish this on my enemy, the CEO of the hospital down the street just finished a nine-month nursing strike. I think it's the longest strike in U.S. history. This is three miles down the street. And I can't imagine being in her nurses' shoes right now and trying to rebuild that relationship and have people want to choose to have to come work for you coming out of a nine-month strike versus hearing from people at UMass Memorial, how well they were taken care of during this pandemic.
And so this next three to five years in healthcare and in, I think in many industries, is going to be all about getting and keeping the best people possible.
And boy, I'm glad we got a headstart here.
'Cause I think it's going to make all the difference in the world for us.
---
Sharing a few of my reflections what Eric had to say...
One key is that Eric and the leadership team have expressed their caring for the employees and providers all throughout the pandemic, through words and actions.
It makes me think of times when people are asking about "how do we get buy in for this change we're proposing?" If you haven't engaged people along the way in the improvement process, it could be too late to start asking for their buy-in so far along the way.
The challenge will be greater for CEOs and health systems that have lost the trust of their staffs. But, the important work of recovery will have to take place, which will require taking a hard look at one's own approach to leadership and understanding the organization's culture and current state, rebuilding trust from the C-suite through the frontlines, refining the daily work, improvement and management systems, and doing this all with humility and the input of frontline workers and managers.
---
Upcoming Leapfrog Group Session
Our friends and partners at the Leapfrog Group are hosting a LinkedIn Live session, "Healthcare Workforce Fatigue: Impact & Ideas To Support Healthcare Workers" featuring a panel of HCA leadership on January 18 at 12 pm ET.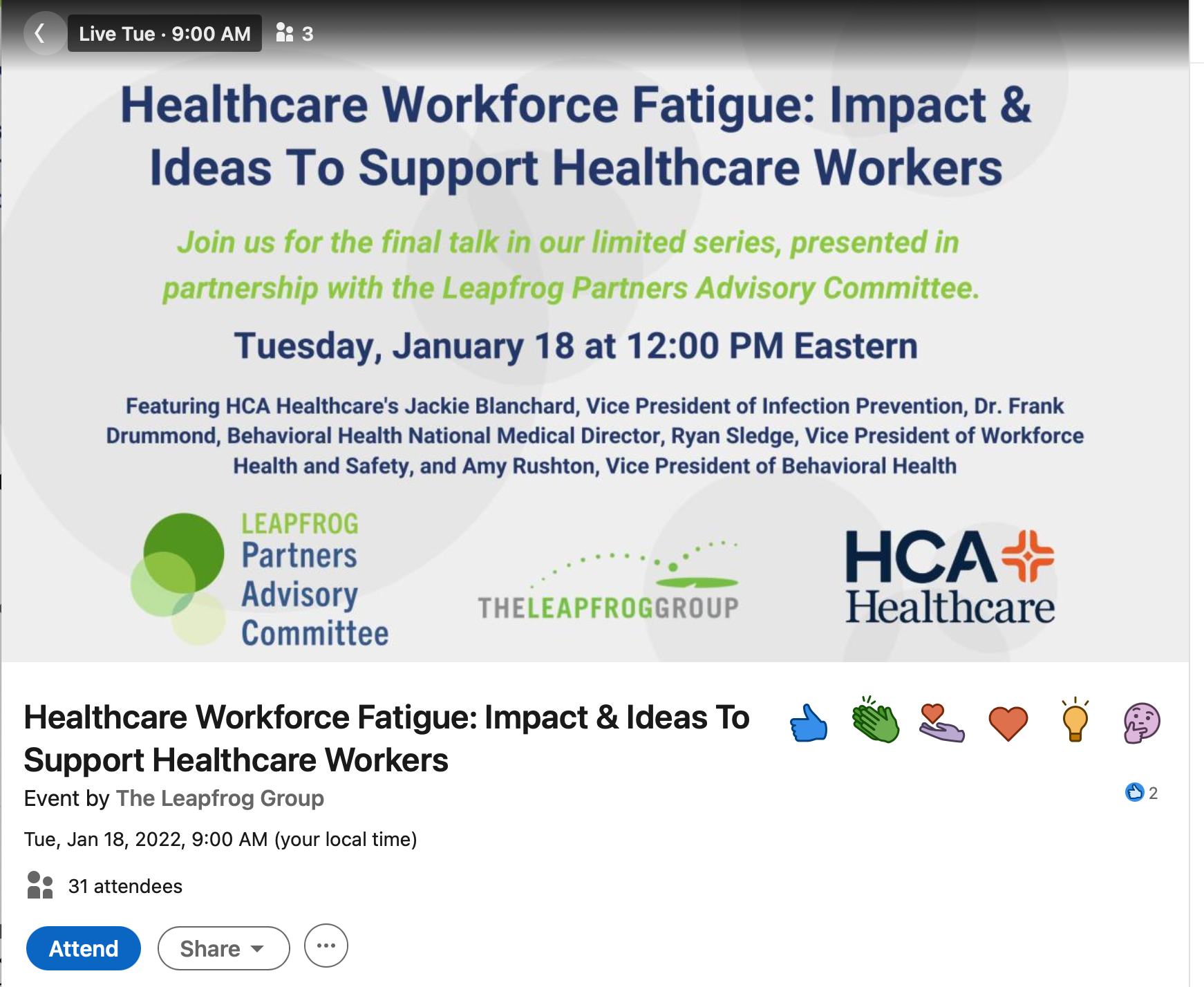 ---
What Do Others Say?
There are a number of reports that I found online when doing a Google search for "health system recovering from covid" -- looking for insights or recommendations that weren't related to an individual who is recovering from the disease or dealing with long-term symptoms.
There's a report from Deloitte: "COVID-19 recovery for the health care ecosystem
Gearing up for the next normal"
The American Hospital Association offers: "COVID-19 Pathways to Recovery"
There's a JAMA article: "Guidance for Health Care Leaders During the Recovery Stage of the COVID-19 Pandemic, A Consensus Statement"
And this article from STAT: "Rebuilding the nation's health care workforce during and after Covid-19: Lessons from disaster management"
What is your organization doing to prepare for recovery, the new normal, or however you frame it? Please leave a comment on this post by scrolling down to find the comment box.
---
See also Ken Segel's thoughts on leveraging lessons learned during the pandemic in his blog post, "Hospital Command Centers: Keep What's Best and Improve the Rest," and watch the Shingo Institute webinar he presented, "Use Your Crisis Muscles to Accelerate Your Organizational Excellence Journey."
---
And some useful lessons as we continue to work through the pandemic: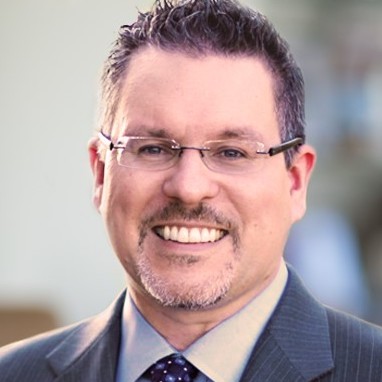 Mark Graban is a Senior Advisor for Value Capture and has served healthcare clients for over 16 years. Mark is internationally recognized as a leading author and speaker on Lean healthcare. Full Bio