Listen:
Scroll down for a transcript, how to subscribe, and more

Episode Synopsis:
Welcome to Episode #14 of Habitual Excellence, presented by Value Capture.
Joining us today is Paul Pejsa, he is the director of the Catalysis Healthcare Value Network, based in Appleton, Wisconsin. Today, Paul talks with host Mark Graban and shares examples of health systems that are members of the CHVN who have done really outstanding work during the Covid-19 pandemic. Note, this episode was recorded in late May.
Organizations mentioned here include Bryan Health (Nebraska), Nebraska Methodist Health System, UMass Memorial Healthcare, Integris Health (Oklahoma), Torrence Memorial Medical Center (California), and Children's Mercy Hospital in Kansas City. How did they use daily huddles, A3 problem solving, and other Lean Management System practices? Listen to find out… (or watch)…
Watch on YouTube
---
Click any image for a larger view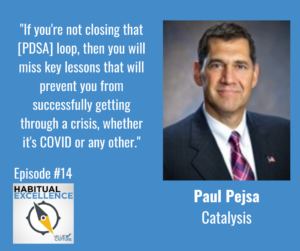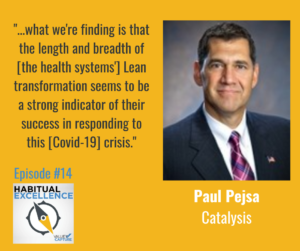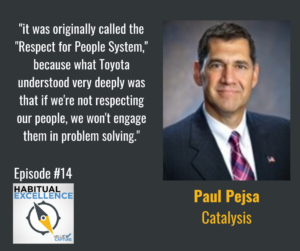 ---
Click to visit the main Habitual Excellence podcast page.
---
Subscribe:
To make sure you don't miss an episode, be sure to subscribe today! Please rate and review the podcast.
Transcript: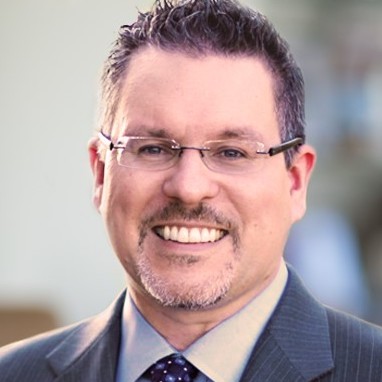 Mark Graban is a Senior Advisor for Value Capture and has served healthcare clients for over 15 years. Mark is internationally recognized as a leading author and speaker on Lean healthcare.