A recent survey of more than 18,000 nurses conducted by AMN Healthcare (a U.S. healthcare staffing company) indicates that 85% of nurses plan to leave their current hospital role in the next year. (Respondents' plans include going to travel nursing, returning to school, or leaving the profession entirely.) Other key findings include:
55% often feel like they want to quit
86% said ensuring safe work environments is key
86% said having more nurse input in decision-making would be helpful for the profession
Solving the critical problem of staff shortages is a keep-you-awake-at-night issue for hospital and health system CEOs and other leaders. Nurses, physicians, therapists, as well as support and administrative employees, are continuing to leave their professions in droves, significantly impacting patient care, quality, safety, and outcomes (with numerous ripple effects on families and communities).
The best leaders understand that raising salaries to retain and attract permanent or travel staff is at best a temporary band-aid (if there even is money to allocate).
In this post, we'll focus on the third survey response noted above (emphasis added): 86% said having more input in decision-making would be helpful for the profession.
Of course, it's not just nurses that feel this way. Employees want to contribute to the decisions that impact their work. People want to feel valued and respected, and healthcare staff want to feel that they are positively impacting their patients and communities. Paul O'Neill, Sr. believed that a critical element of a habitually excellent organization was whether everyone can answer "yes" this question every day – Am I given the things I need, the training, tools and encouragement, so that I can make a contribution to this organization that adds meaning to my life?
The Value Capture Daily Engagement System (DES) is designed (using the Shingo ModelTM and framework of excellence) to elicit input from front-line staff in order to plan for the day, surface problems, and share and implement improvement ideas to achieve better results. In other words, the DES is a structure that empowers front-line teams (providers, support, and administrative teams) – the subject matter experts of their own work – to improve processes and solve problems to deliver the best care and value to patients and customers. This system makes it much more likely that employees will feel engaged, empowered, and valued. When employees feel this way: they derive great satisfaction in their work – a level of satisfaction that adds meaning to their lives; they share ideas to make things continually better; and it is much more likely that these employees will remain and become advocates for the organization.
You may be thinking, "This sounds like huddles. We already have huddles, and our turnover is far too high." The DES is much more than a huddle (which is mostly a check-the-box exercise in some places, unfortunately). The Daily Engagement System is a comprehensive system that creates a structure of communication and alignment, generating a new culture of respect and sense of belonging.
Value Capture, the only licensed affiliate of the Shingo Institute focused exclusively on healthcare, will share our expertise in principles-based system design, and bring these principles to life in practical, actionable ways. Our approach combines baseline understanding and ongoing assessments, teaching, and a heavy emphasis on learning by doing, coaching, measuring what matters, and rapid improvements based on scientific thinking and experimentation.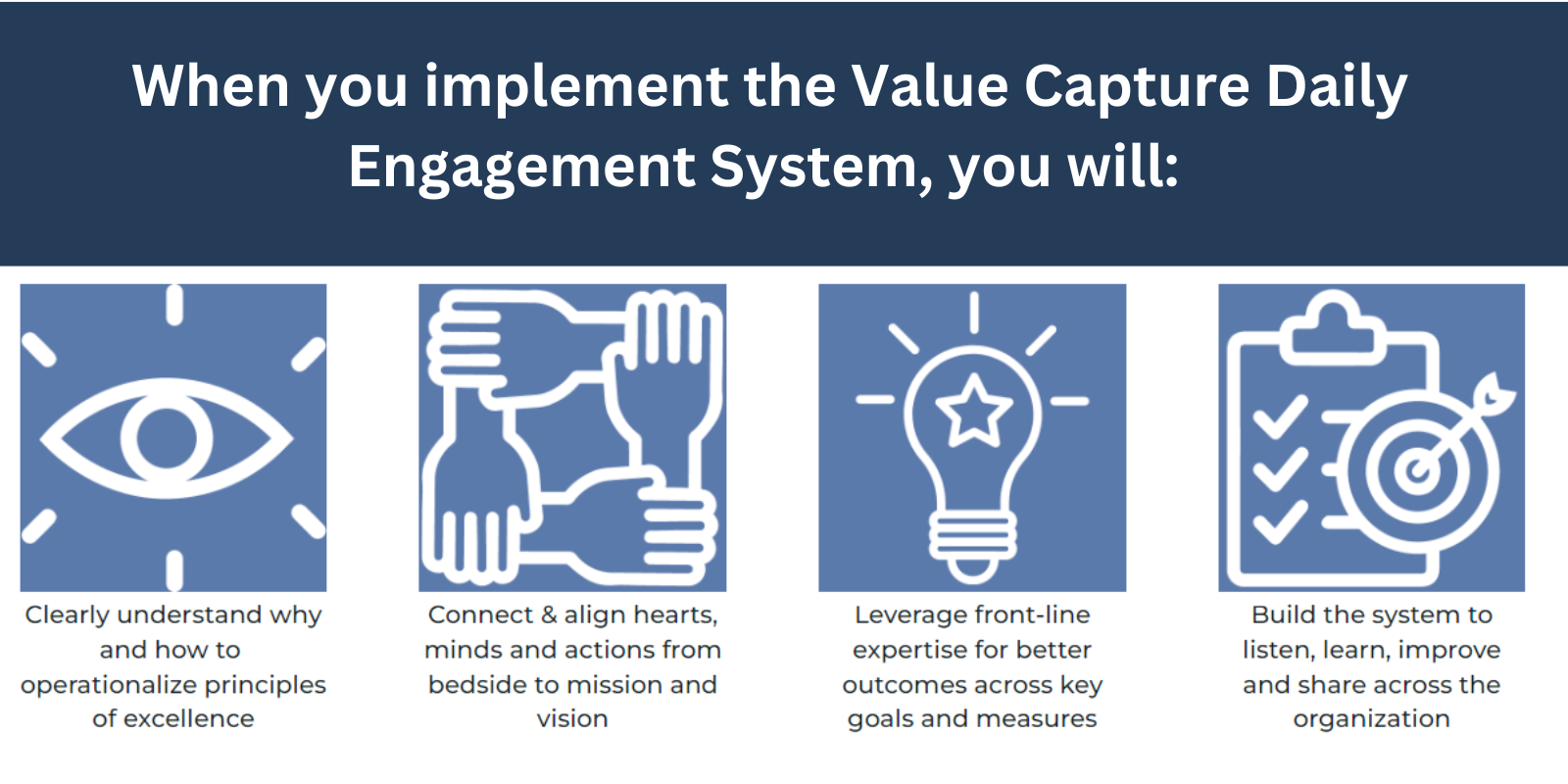 "[The daily engagement system has been] transformational for culture because it gives every single person a voice in their huddle.... It's a culture in which everybody's voice matters. It's a culture where you can make a difference. It's a culture that you can bring forward an idea and someone will listen to your idea and elevate it to the right level. Those cultural traits are really powerful." - Dr. Roxanna Gapstur, RN, PhD, President and CEO, WellSpan Health
Implementation of the Daily Engagement System is composed of six phases. Each phase below contains a brief description:
Assess – Gather baseline information by using direct observations, interviews with stakeholders, and data review, among other methods

Align – Introduce system thinking and design, define roles and responsibilities, and create a communications plan

Design – Create standard work to use, teach and coach the system, and prototype tools and artifacts

Experiment – Identify KPIs and the inputs and resources needed to achieve the KPIs, integrate "reflect from yesterday" and "plan for today" into the prototype board, and integrate problem-solving and problem elevation into the system

Deploy – T

he process to spread the learning, principles, and tools from the model to all the areas across the organization

Stabilize – Understand improvements to date, establish governance of the system to monitor, sustain and improve; avoid erosion
Each phase incorporates structured reflection as the way to capture learning and successes, understand remaining gaps from what was expected, and plan to close gaps and spread learning.
If you want to learn more about how the Value Capture Daily Engagement System can help your organization to improve employee retention, reduce turnover, and improve outcomes across key measures, please complete the form below.
Contact Us to Learn More about the Daily Engagement System
Please fill in your information and we'll get in touch with you.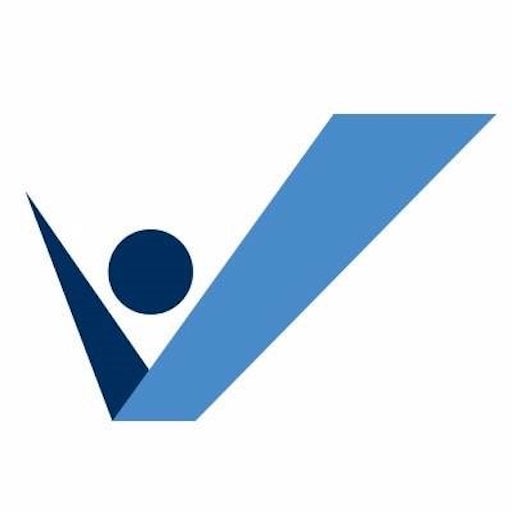 Value Capture supports chief executives who seek to transform the performance of their healthcare organization in safety, quality and profitability.