At Value Capture, we help our clients establish systems that help everybody in an organization to see problems, solve problems, and share problems and solutions. Leaders need to establish and encourage a culture where it's psychologically safe for people to do so.
See, solve, share is a powerful mantra in normal times.
During the Covid pandemic -- and during our current global ramp-up of Covid vaccination -- it's even more important.
Helen Zak, our president and C.O.O. here at Value Capture asked a really important question recently:
How can we help organizations across the United States (and abroad) share with each other?
These organizations are seeing problems (and opportunities) and they're solving problems (using Lean and other methods) -- but how are they sharing what they're learning?
We know that many organizations want to share. The question is "how?" We know that "medical Twitter" played an important role in physicians sharing better ways to treat Covid. But, organizations often don't want to share quite so publicly.
While I'm a senior advisor for Value Capture, I also have a role with (and a small ownership stake in) the technology company KaiNexus. I realized that KaiNexus technology -- typically used to share within an organization -- could also be used to share across organizations.
Announcing "VacciNexus"
"VacciNexus" is a web-based system (accessed via a browser or the KaiNexus mobile app) and it's easy to use. VacciNexus is a simplified version of the KaiNexus platform that allows registered users to:
Submit examples of vaccination process improvements
Read improvements submitted by others
See, Solve, Share.
VacciNexus is open to those who work for a healthcare organization (or a governmental agency) that is administering the Covid vaccine -- in hospitals, clinics, long-term care facilities, pharmacies, convention centers, stadiums, or wherever.
To apply to use the VacciNexus system, click here. You can also refer people to VacciNexus.com and that forwards to the site.
Using VacciNexus
Once you log in, the system provides a simple interface for entering your improvement example. Ideally, people are sharing improvements that have already been tested (as part of a Plan Do Study Adjust) cycle. These aren't mere ideas or problems -- they are things that have been implemented, as this allows others to "adopt and adapt" what they've seen at their own organization. Or, we know that viewing the ideas of others will prompt and spark your own creativity in your setting.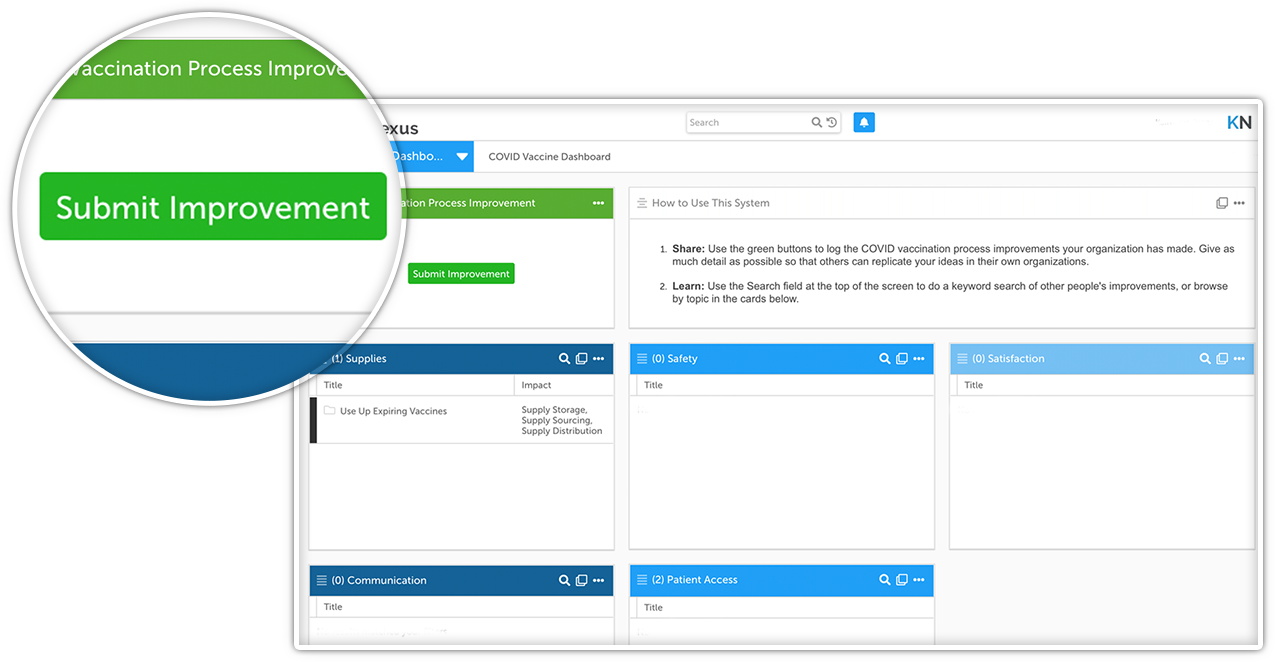 Here is an example of an improvement being submitted via the KaiNexus mobile app: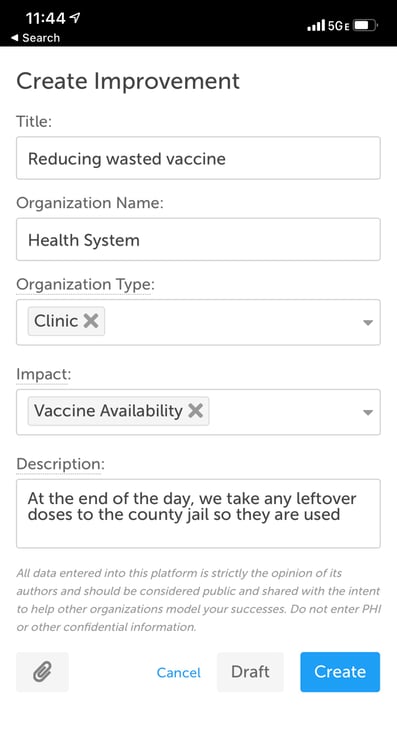 Whether you're using the browser or the mobile app, you can attach files, such as photos, and you can add links (to videos or other documents that can be reached over the internet).
Users can also search existing improvements or they can view lists that are sorted by improvement categories.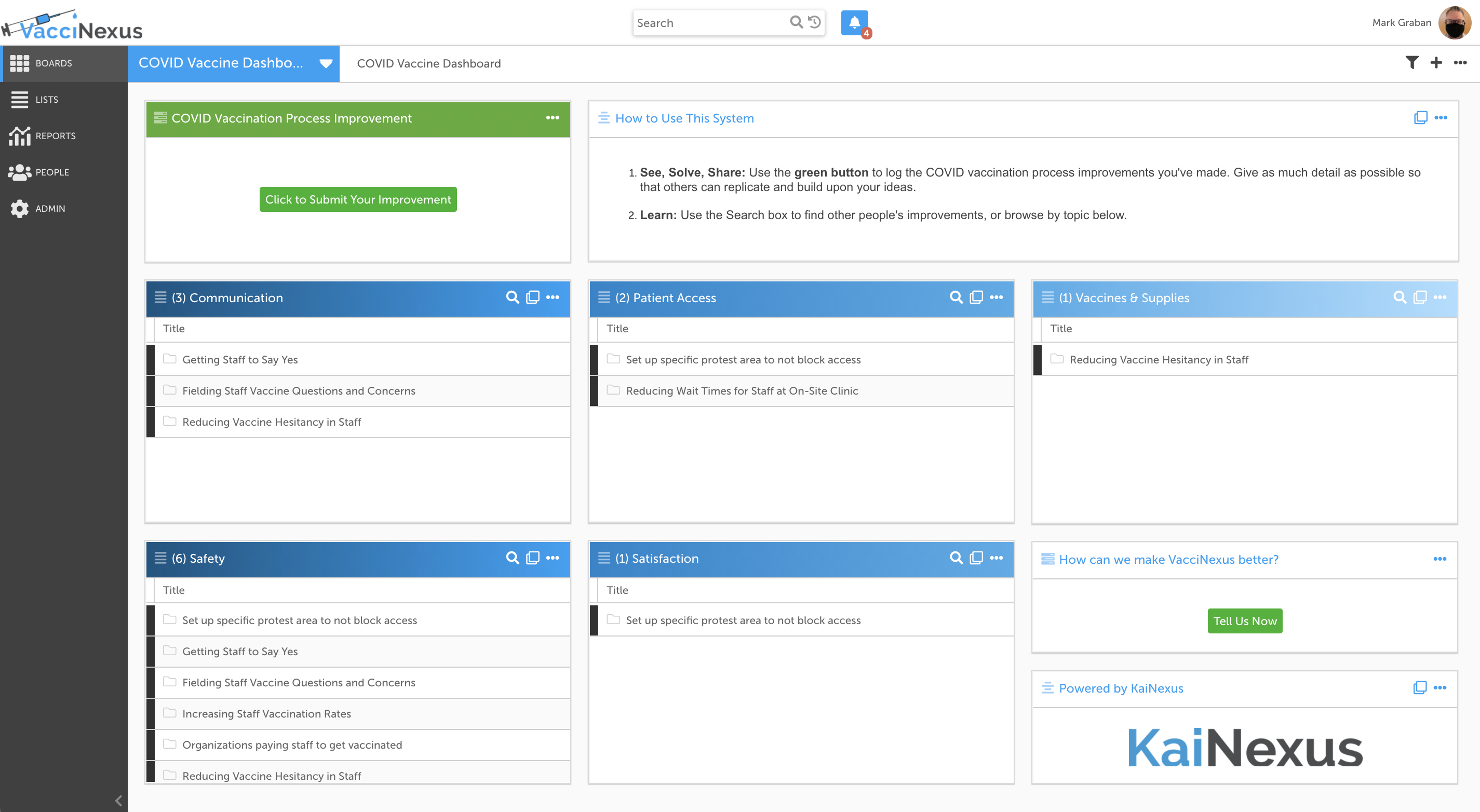 And you can then view the detail of what was submitted, as illustrated by this mocked up example: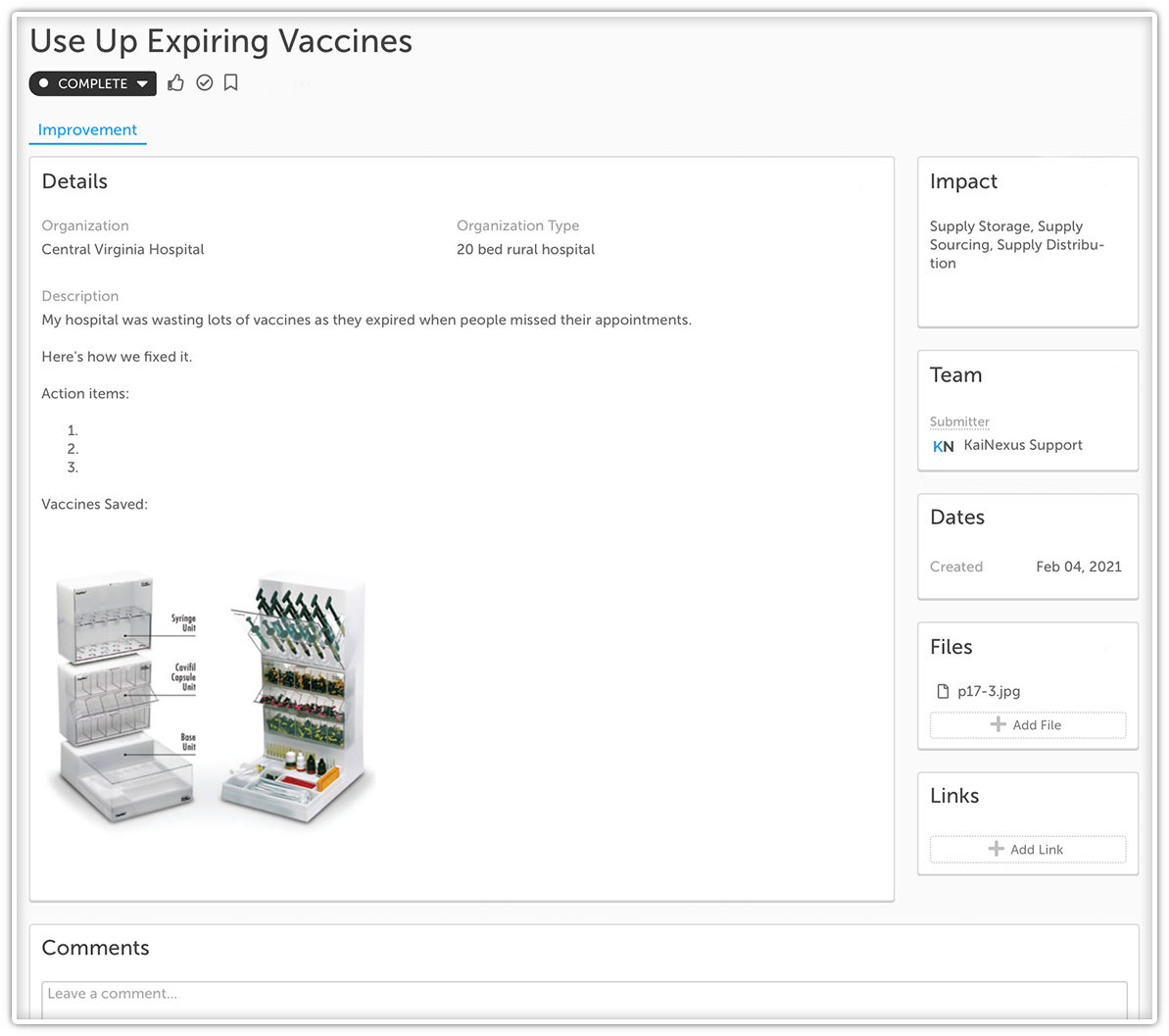 We've gotten the ball rolling by first inviting some personal connections and clients. Now that the proof of concept is there -- early adopters are using and are submitting improvement examples -- we're happy to open this up to others.
Again, click here to register. Tip: For the fastest approval, be sure to use your work email address that shows you work for a healthcare organization or government (not Gmail or other personal addresses).
I hope you'll join us. Thanks for what you do to improve the Covid vaccination process and thanks, in advance, for sharing!!!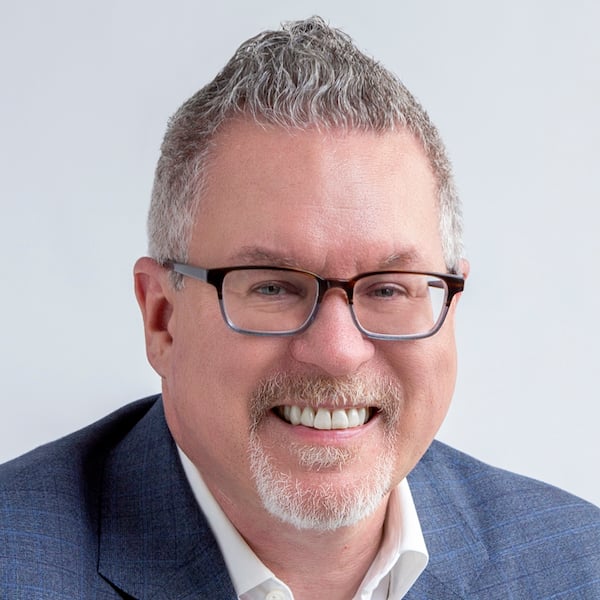 Mark Graban has served healthcare clients since 2005. Mark is internationally recognized as a leading author and speaker on Lean healthcare. His upcoming book is "The Mistakes That Make Us: Cultivating a Culture of Learning and Innovation."