Value Capture Senior Advisor Vickie Pisowicz recently joined Dr. Steve Spear, Senior Lecturer at MIT's Sloan School of Management and Senior Fellow at the Institute for Healthcare Improvement, to co-present, "Fixing Healthcare from the Inside."
Drawing on the deep experience each of them has gained by studying and applying the elements of organizational excellence to complex enterprises, including healthcare systems, Vickie and Steve shared insights into those foundational excellence principles, as well as some case studies.
The recording is embedded below, with some notes and highlights we've collected to follow:
---
Steve began by answering the question, why were he and Vickie talking about healthcare?
"Talking about the dry, financial terms, [healthcare] is one-fifth of our economy. But more importantly, when you start thinking about the emotional peaks and valleys of your life, those peaks and valleys are very often associated with some experience, some interaction with the healthcare system, whether it's the birth of a child, or something really tragic."
Relentless Drive for Zero Harm, without Trade-offs = Excellent Organization-wide Performance
Vickie began to address "breaking the myth of tradeoffs" by talking about the principles of dignity and respect, and the culture of excellence built across Alcoa when Paul O'Neill, Sr. was the CEO. Vickie was employed by Alcoa during Paul's tenure. She illustrated the widespread impacts on Alcoa's performance of Paul's relentless focus on driving worker harm to zero.
When Paul became the Alcoa CEO, the OSHA Lost Workday Rate (which measures worker injuries that are severe enough to cause at least one day of missed work, per 100 employees per year) was already one of the safest rates in the U.S. at 1.86. When Paul left Alcoa to become the U.S. Treasury Secretary, the rate was down to 0.16. In that same period, the market capitalization of Alcoa grew 800%. The enduring power of leader-led, organization-wide focus on zero harm, and the problem-solving capability development of 140,000 employees is shown by the fact that the Lost Workday Rate in 2015 was 0.1.
To compare Alcoa's safety performance, in 2019, the company's Lost Workday Rate is 10 times safer than that of the average U.S. hospital. (Emphasis added)
Despite many problems at Alcoa when Paul became the CEO, he believed that focusing first on driving worker harm to zero would unleash each member of the workforce to speak up, share problems and ideas, and continually innovate – and that all business lines and administrative departments would likewise innovate, and that financial results would follow as a consequence.
"It was bold, it was big, it was different. It was about showing dignity and respect to every single person there. He started with this idea of safety as a way to show dignity and respect, and to engage everyone in the process. And to really understand that the only way we could really solve these big problems is if we were able to solve them together…. So the bar was set high, and we were expected to, and have the ability to learn from everything gone wrong. Every time there was a safety incident, we would investigate it within 24 hours. That really caused us to look at not only our safety risks and eliminating them, but how our processes worked – what made them work well and what prevented us from doing them right the first time….
So this idea of safety and pursuing safety across the board, started with people, but it then started spilling over into other things. Not only did a safe environment become a reality, the company grew, and the market capitalization exploded. Safety was an important way to engage everyone, and it had a moral and practical implication, but it really had this idea that by solving these safety problems and starting there, it would spill over into these other ideas."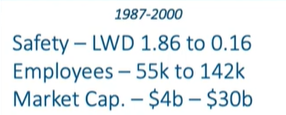 Leading with safety was really the foundation of a culture of excellence.
Paul O'Neill's "3 Questions"
Am I treated with respect by everyone I encounter at work, without regard to my race, religion, work status, education, or any other distinguishing characteristic?
Am I given the resources I need – training, support, tools – so I can make a contribution to the organization that gives meaning to my life?
Am I recognized every day for my contributions by someone whose opinion matters to me?
Steve and Vickie conducted a poll of the webinar participants, gauging the degree to which the participants could answer "yes" to each question.
Focusing on the second question, participants were asked how often, in their experience or organization, patients are treated with dignity and respect. It is disheartening, to say the least, that in this small sample group, only 20% of respondents said that patients are "Always" treated with respect.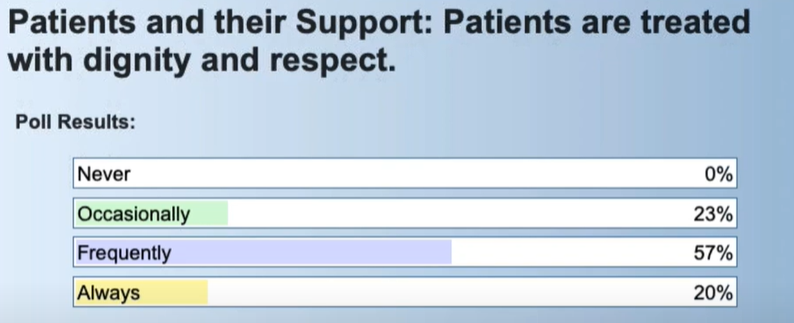 Case Studies – Improving Healthcare Results and Staff Engagement by Focusing on Zero Harm
Vickie then described how the creation of a help chain, or a "pathway for assistance," in a medical-surgical nursing unit of a hospital, enabled healthcare professionals to rapidly escalate and solve problems, in a structured way. This particular help chain started with a team leader, and ran up to the chief nursing officer, (CNO) who could engage leaders in other departments; this is vitally important since most root-cause problem solving necessarily involves more than the department in which the problem occurs.
The team leader played a key role, because as Vickie noted, "As we're working with folks and we're engaging with folks… and they see problems and they want to solve problems, the dilemma is, how do you solve them by yourself when you have competing needs…. The team leader is an assistant to the team, they're somebody you can partner with and team with, that as you're doing your work and trying to meet the needs of patients, you have somebody you can call that can help. Somebody who can help right then, in real time, and be able to not only restore the system and meet the need met, but begin to solve the root-cause problem."
With the help chain structure and execution, this unit "freed up hundreds of hours of nursing time that wasn't associated with direct patient care, they worked on eliminating falls," and a list of other specific problems this unit was able to address and solve. The unit was also "able to look holistically at patient care, whether it was nutrition and how dietary was supporting that, or even how they controlled the temperature in the rooms and involving maintenance in that."
This idea of having a help chain that both enables real-time problem solving and also begins to look at those silos was a really important piece to their success.
Watch the entire webinar to learn more details, including how a community hospital outpatient clinic overcame the embedded silos (for example, a patient gets imaging in one location, blood draws in another location, and sees the physician in yet another location) by redesigning teams, sharing governance and communication, to increase volume by 20%, increase utilization by 25%, and improve the rate of first-case-on-time-starts by 122%.
---
If you would like to learn more about Paul O'Neill's "3 Questions" and leadership principles, please download his eBooks, A Playbook for Habitual Excellence and Lasting Impact. Or download them both!
To learn more about how Value Capture might help you lead with principles of dignity and respect to drive for zero harm and create a culture of organizational excellence, please complete our Contact Form.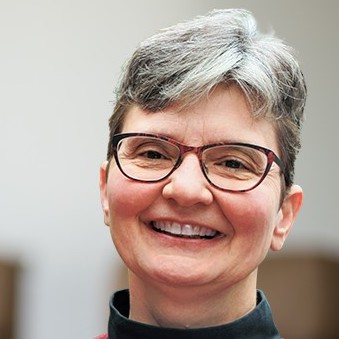 Ms. Moore's responsibilities include marketing and communications, knowledge management and office operations. Prior to joining Value Capture, she served as a Marketing Manager at Reed Smith, a global law firm. Other career steps include: co-founding and operating a trend-setting coffeehouse; securities lawyer; and, service and equipment sales. Full Bio