I created a poll recently on LinkedIn, where I posed the question like this:
The late Paul O'Neill, as CEO of Alcoa, called for "zero harm" to employees, and created a culture where everybody worked toward that without making excuses. He later inspired many healthcare leaders to work toward "zero harm" to patients, as well.

But how would a goal like this be received in your organization?
Inspiring -- aim high!

Demoralizing -- not possible

More nuanced -- please comment
Here are the results of the poll: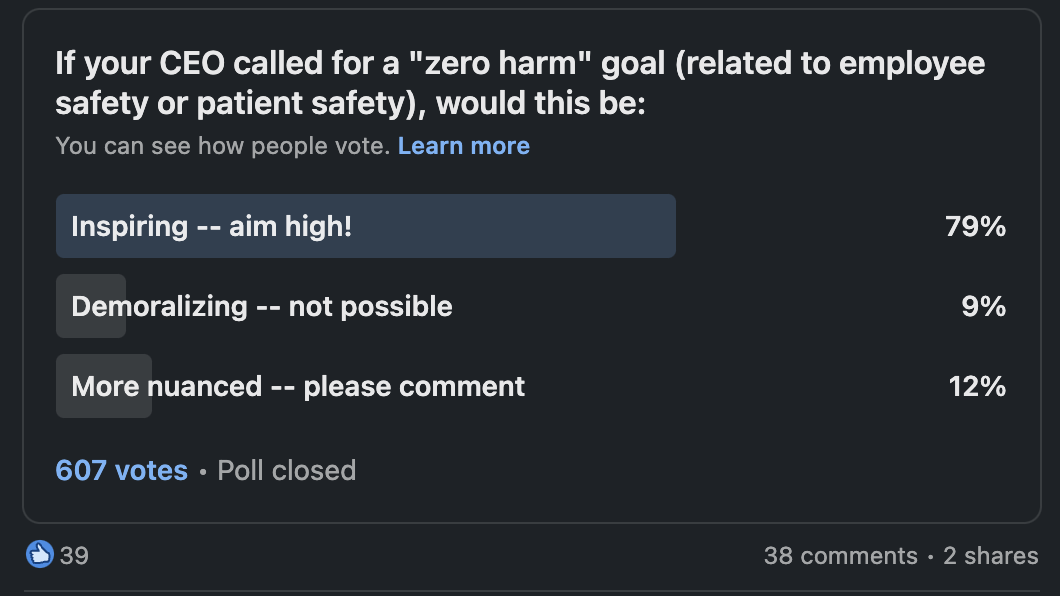 I was glad to see that a vast majority of people answering the poll said the goal of zero harm is "inspiring" rather than "demoralizing." Keep in mind this is not a scientific poll.
You can also view the results on LinkedIn.
Some of the Discussion:
The poll has prompted some really good discussion so far. Please join in!
Valorie Hendrix wrote:
I thought it was part of all organizations to strive for "zero harm" towards employees. If that is impossible for your organization, then why would employees work there?
Jamie Flinchbaugh added:
I think the goal is inspiring, but needs to be backed up with a "how do we do it." We don't need all the answers, but need to be pointed in a direction, and a common direction. Paul did do that, which is one of the keys to the progress he made.
Eduardo Osario wrote:
The true north should be on everybody's mind and it should be zero. But if there are no milestones, recognitions, and sharing; steam may dry out and you're eventually left with withered posters.
He's completely right about this. Mr. O'Neill never meant for "zero harm" to be a slogan or a poster. He took a lot of action, and encourage real action and leadership throughout Alcoa.
Julie Savage-Fournier said:
It all depends on the means allocated and support provided to achieve the goal.

Stating a vision without supporting it with actions - or sometimes contradicting it with our actions - is demoralizing.

Stating a vision and taking visible actions (even imperfect) towards it is inspiring.

It's all a matter of believing in the intention. Is it genuine or a smoke screen?
Well said. It has to be genuine. As Ron Suskind emphasized in our podcast about Paul O'Neill last week, you have to TRULY care about your employees
More About the O'Neill Approach
You can read more about the O'Neill approach -- which goes well beyond stating the goal of "zero" -- here on our "Zero Harm" page.
You can also learn more in our free eBooks: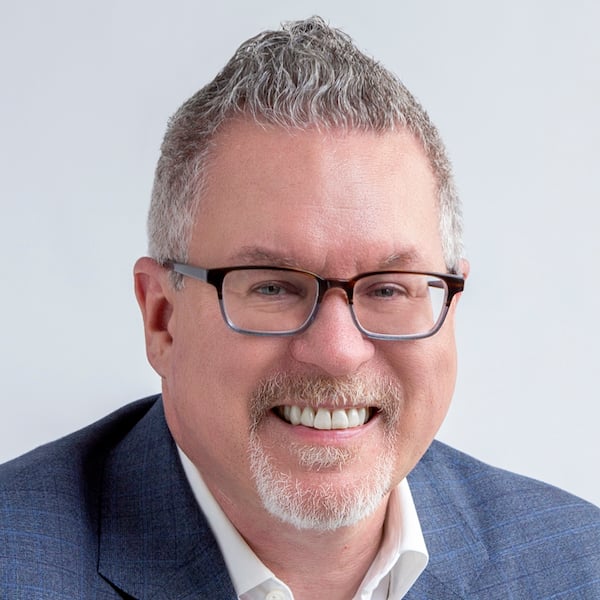 Mark Graban has served healthcare clients since 2005. Mark is internationally recognized as a leading author and speaker on Lean healthcare. His upcoming book is "The Mistakes That Make Us: Cultivating a Culture of Learning and Innovation."